Opening Remarks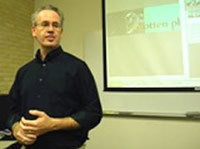 It's a great honor to have the opportunity to reflect on my teaching in support of my dossier for the Deans' Award in Teaching at TCU. In one important sense, little has changed in my philosophy since I began my career as an MA student at Tennessee in 1991: I still consider teaching an act of service, an act of consciousness raising, an act of paying forward all the wisdom and good instruction I've been exposed to over the years. As a teacher of poetry, and of writing more specifically, I've approached teaching as a way of showing students how they might achieve what Robert Frost called "a momentary stay against confusion"—a moment of genuine insight into an always changing and increasingly complex world. Even if those moments don't result in permanent understanding, I want my students to know that through the hard work of writing (that is, learning how to ask hard questions, humbling yourself temporarily to other opinions, asserting, revising) those opportunities for insight are always available. What has changed considerably, however, has been my understanding of the many ways those "stays against confusion" can be composed.

The New Media & The New Me
The single most transformative experience I've had as a teacher since I began at TCU has been my work at the New Media Writing Studio—an initiative whose mission is to help faculty across campus incorporate new media into their writing assignments. To develop my expertise as a New Media Consultant, I've renovated assignments in almost every undergraduate and graduate class that I teach (an equal blend of literature, composition, and creative writing in both the English Department and MALA program). I don't see my interest in new media as a deliberate effort to be innovative; rather, I see the incorporation of new media as a necessary step forward in my responsibilities as a writing instructor. We need to recognize that more and more communication is now taking place visually and digitally; as a result, our writing instruction should help students anticipate how they will communicate effectively after they leave the University.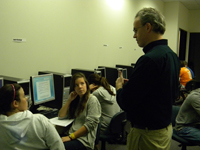 My thinking in these terms echoes the argument Robert Scholes makes In The Rise and Fall of English (1998). In that work, Scholes is troubled by the fact that, at least in English departments, too many professors think of their students as younger versions of themselves (i.e. literature enthusiasts who will also go on to pursue careers in teaching), when a small minority of even English majors eventually become academics. I share Scholes concern. While I am very proud of students who have gone on successfully to graduate school in English—a letter from one, Shannon Hardwick, is included in this dossier—I do not approach each new crop of students as grad students in-the-making. Instead, I try to couch the skills that I teach (writing, critical analysis) in terms of their post-academic application. Students need writing skills that will help them succeed in the academy, but I fear that too much of their training focuses on those skills. While the academic essay remains an important way for instructors and students to communicate, I also feel it's important that students know what it's like to write in other genres (editorial, political blog, organizational website, and yes, even poetry), ones they will much more frequently encounter in their professional and personal lives.
Additionally, when I help students compose with new media, I'm helping them acknowledge a traditionally overlooked level of complexity within the audience. Words are not the only way our intellects and emotions are engaged. We are each, to varying degrees, visual learners. Multimedia composition can be more engaging than a silent and static print text because they involve a variety of information-introducing portals. By using color, motion, and sound, multimedia texts literally involve more of the body (i.e. more of the physical senses). As a result, multimedia has both a conscious and unconscious effect on the audience. Multimedia can help the text it accompanies appear "warmer" or "more inviting" because the composition as a whole has more initial visual appeal (in this sense, the "reading" of a text begins with the very first glance, even before the first actual word is digested). A new media text with a strong visual appeal has a better chance of getting past the audience's initial resistance than a competing text composed of only static text and paper.